Stella – founder of the Divine Tantra
My mission is to bring transformation through Tantra and help with finding the answer to a question:
Sexual energy opens the door inside of you to the life power. My heart is open for everybody. I serve as a guide on your life path. We all deserve the life without fear and life full of energy. Tantra helps to solve energetic blockages, so the energy can flow freely. Tantra opens your heart. You can feel not only yourself but the others too. If you want a change in your life, try if Tantra is your life path. My work is to bring you to your own source of energy, to become independent on anybody and to be able to live your own life.
Get back your self-confidence and discover your talent and creativity. Men: Do you want to feel more like a man? Or women: Do you desire to be more female? Do you want to heal your hurt heart or genitals?
Tantra offers the solution. Tantra massage can bet he first impulse. Then you might feel to learn such a massage or you will choose an individual Tantra session it will always be inspiring and fulfilling experience. If you feel that these words resonate with you, you are ready to enter on this track. If you feel that you just want to experience joy or excitement this experience is also great and can be the first step to your transformation. The body is an instrument of the change. You will get to your soul through it.
When I discovered years ago that my great desire for deep inner experience in connection with sexual energy could be fulfilled, Tantra became my life path. Joy, excitement, sensuality, desire, altered state of consciousness, depth of experience, spirituality open to me. I have decided to group around friends and also masseuses and masseurs who have similar views and except sexuality as something sacred. My vision in future is to work as a therapist in the sexuological field. I will use my knowledge of Tantra, Chinese system of Tao, and also my therapeutic training at New school of erotic touch, set up by Joseph Kramer, who educates foremost therapist in sex field around the world. I have already started the training.

Certified training of "Sexological Bodywork"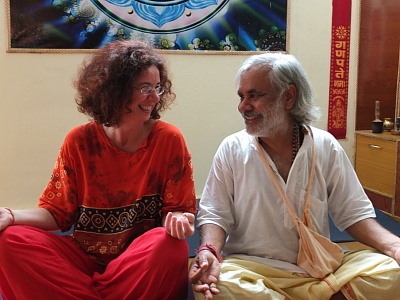 Stella and Yogi Yogendra Mishra
Stella is a founder of the Divine Tantra. Next information about her and other masseuses and masseurs of the Divine Tantra you can find on the page Team.